🔍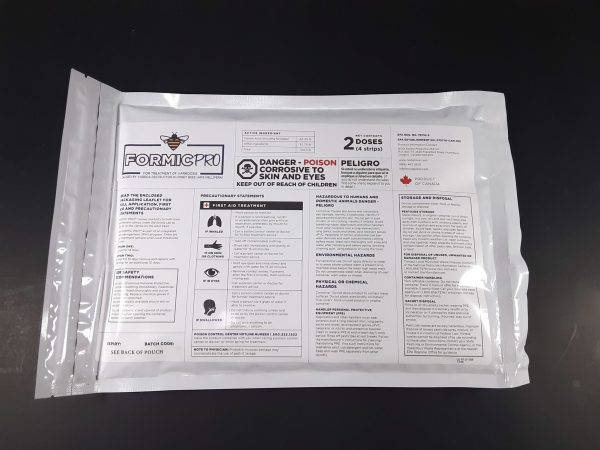 Formic Pro
From: $0.00
Safe for use during the honey flow, this is a formic acid treatment that works by using natural raw ingredients. With an 83 to 97% efficacy and no known resistance (because it is an acid), this is a treatment you can use over and over. If used in higher concentrations, can kill mites under cap and leaves no residue in wax or in honey but, (ready below) a full treatment can be hard on the bees. The strips are completely biodegradable and are ready to use right out of the package. The 2 year shelf life means that any you don't use right away will be good when you need them again. Daytime temps must remain between 50 and 85 degrees F during use. This makes it tough to use during the summer because we always have a random very hot day, making this treatment far more active and very hard on the bees.
Two Treatment Options: Knockout vs Knockdown
Knockout: We do not recommend this method unless you have a very heavy infestation.  It can be hard on the colony and stress them. Use the FULL DOSE treatment option to get Knockout efficiancy of over 90%. Place 2 strips on top of the lower brood box for 14 days. That is a total of 2 strips for the entire colony. Your colony must be strong, remove the entrance reducer completely. In the first 3 days, the temps must not exceed 85 degrees or it may cause excessive brood mortality and queen loss. This may sound harsh but a heavy mite load is far, far worse.
Knockdown: This is a much safer application. Recommended if you just need a little mite control or if you have a weaker/ smaller colony. Remove the entrance reducer for duration of both treatments. Place only 1 Strip on top of the lower brood box for 10 days, remove and replace with a the second strip for an additional 10 days, then remove. You may be tempted to leave the strips in longer but try to get them out at their appropriate time.
PPE: Be sure to wear nitrile gloves.
*We recommend using a Varroa Easy Check for an accurate mite count before and after treating.
*Varroa Mites are a HUGE problem and the #1 natural cause of a colonies mortality. (#1 is actually the beekeeper).  Please research Varroa and understand alllllll of the different treatment options and the mite itself by clicking The Honeybee Health Coalition non profit site
Visit the manufactures webpage:Formic Pro