🔍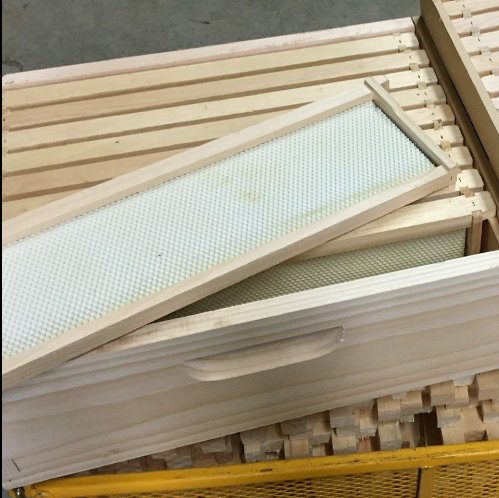 Assembled Medium Box with Frames
$40.20 – $60.00
Description
A complete medium box with frames assembled and ready to be painted or stained.
Many beekeepers use Medium boxes as honey supers, but they are also gaining popularity as brood boxes. This box is 6 5/8 Inches and made to last. Made locally by an Amish family out of Ohio White pine, this box features finger/box joints that make it strong enough to hold a bumper crop of honey. Finger joints are fastened with non toxic, Titebond 3 exterior grade glue and 2 inch galvanized staples.
Frames are assembled using non toxic Titebond 3 exterior grade glue, staples, and nails. Choose between frames with Premier, Acorn 1 Piece Plastic Frames, Wax with hooks, or Cut Comb wax foundation. Due to the delicate nature of wax it will not be installed, but the nails to install will be included. Support pins or wire for wax foundation will not be included.
Premier Foundation and Acorn 1 piece frames: Heavy or Double Waxed (meaning you do not need to add extra wax to the frames before using them), Durable enough for approximately 15 years use, Will not blow out in extractor, Does not warp in heat. We Recommend Black Foundation for Brood and White Foundation for Honey Supers.
Wax Foundation (wired or cut comb): More natural foundation for bees, Fragile until drawn out, Wired should be replaced every 4 years and is not as durable in an extractor, Cut comb will be replaced every year/ season and can not be used in an extractor.
Additional information
| | |
| --- | --- |
| Foundation Type | White Premier Foundation, Black Premier Foundation, Wired with Hooks, Cut Comb Foundation, Black Acorn 1 Piece Foundation, White Acorn 1 Piece Foundation |
| Box Size | 8 Frame, 10 Frame |
Only logged in customers who have purchased this product may leave a review.